• accessories • fleece • guinea pig • lap pad • lap protector • pvc lined • snuggle time • waterproof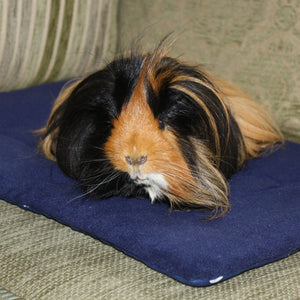 Our water proof lap protectors (affectionately known as piddle-pads here at Guinea Pig HQ) have been very popular in our online store so we though we'd share the story behind their creation and demonstrate just how good they are at preventing little accidents soaking through on to clothing and furniture.
We've all been there, you're enjoying snuggle time with your furry family, everyone's feeling relaxed (perhaps a little too relaxed) and suddenly you get that warm sensation.... slowly seeping through onto your lap. Little Piggy looks adoring into your eyes as if butter wouldn't melt and you're thinking not again!